Version 1.4
2014/04/27 Release
What's New
1.Added a settings of calendar display.
Added a settings.
[Stamp color:]
You can change the color of the stamp.
[Beginning of a week:]
You can change the beginning of a week. (Sunday / Monday)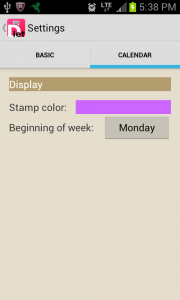 2.Added a load function of stamp customized.
The stamp can be generated from images saved on the SD card.
Please to save image files to SD card(/sdcard/Android/data/com.workpiles.orehara2/files).
When you save, please "stamp1.jpg", "stamp2.jpg" to the file name. (size 60x60pixel recommend)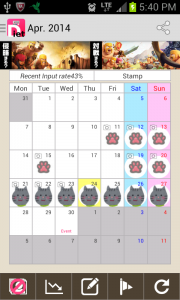 <Sample Data>
You can download press and hold the image.


3.Fixed the Chart view. Add a space below the minimum value of the chart.
4.Optimize screen drawing method


Click here for recommended.
MyGochi – your favorite food sorting tool