Version 1.2
2014/02/22 Release
What's New
1.Added impending goal (Event) to Goal Management
"I want to lose weight up to **kg by the friend's wedding at the end of next month."
By registering an event, you can check what kilometers remaining to the goal that you've set.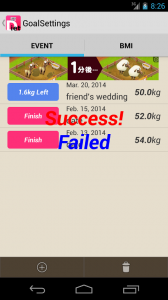 +Button : add new event
trash Button : delete event that you selected

2.Added a comparison function to graph display
You can view by overlapping multiple graphs.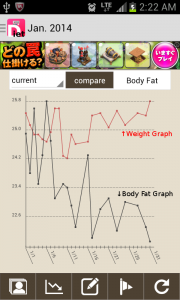 [compare]Button : Even if you changed the displayed graph, the graph does not disappear.
#Push button long time : save setting.

3.Added a grid to the alignment of the photo shooting
you can reduce the phenomenon of position shifts gradually.
When you are viewing the camera & overlay view, displays the settings screen by clicking the Settings button at the top right.
4.Support Front Camera (Interim)
If the model that corresponds to the front camera, Switching button is displayed in the upper right corner of the camera view.
#It may not work properly depending on the model.

5.Changed the photo display of confirmation view of the input screen
Modified to display side-by-side photos taken with the oldest photo, a confirmation view that is displayed when you click on the photo taken at the input screen.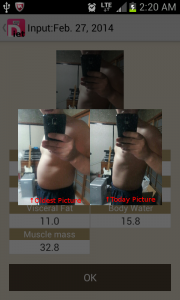 6.Changed the graph view to be able to display a graph of the past
While viewing the data of past by flick the calendar, you can view the graph of this month.
7.Removed the restriction of the use of the graph view
8.Fixed old numerical display when you switch the calendar display month


Click here for recommended.
MyGochi – your favorite food sorting tool