This app will check the connection destination of each application.
This app can help to discover the spyware.
Usage
1.start/end
You can start / stop by pressing the button on the bottom of the screen app.
2.check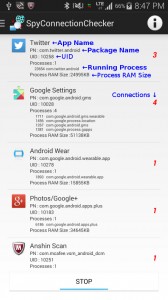 3.check IP address log
If you click on the app list, it displays the IP address log.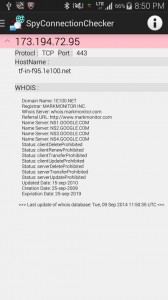 Protocol: Connection protocol
Port: Destination port
HostName: Host name
Whois: Information of the connected server.
Also click on the list, you can search on web using its information.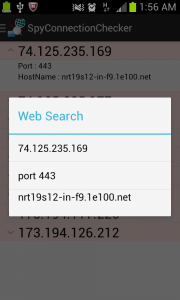 4.Used Permission List
※Only SpyConnectionChecker2
Listing the permissions that each app have used.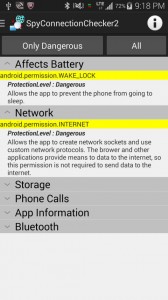 Our Applications
MyGochi – your favorite food sorting tool
20x20Trainer – 20×20 multiplication table trainer
Driving G Monitor – a tool to monitor the acceleration of the driving
Coffee Tap – Tool for the coffee lovers