Version 2.0
2014/03/23 Release
What's New
1.Added TwitArena
Need Twitter account
TwitArena is a match-up function using Twitter.
You can share the play data on twitter and play against the play data by retweet.
How to tweet play data:On "Challenge" Result view, Click Tweet Button. Start Your Twitter client.
#[search from TL] is provisional function. This feature find data from the time line of the last 100.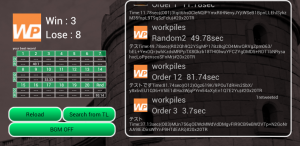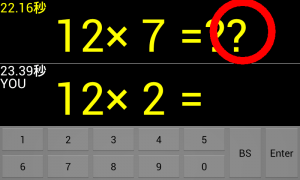 2.Added Judgement SE
Added the sound when ox judgment.
<Change>
3.Changed the decision rules on "Challenge"
Old:If you enter the wrong calculation becomes "incorrect".
New:Don't display the following issues until you correct.
Old:Time count progresses even while it is being displayed ox.
New:Time count stop while it is being displayed o.
4.Changed "Challenge" result view
Old:Displays Correct/Incorrect each problem.
New:Displays the time it takes to answer.
<Fixed>
Fixed the deviation of the time on the play screen and result view.

That's all.


Click here for recommended.
MyGochi – your favorite food sorting tool